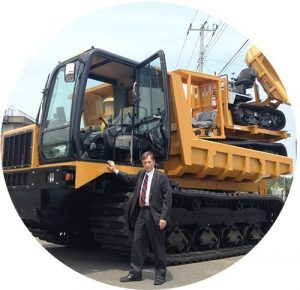 Where are we located?
We are a close knit network of machinery experts and general Morooka buffs with our main business entity incorporated in the unique state of Alaska, USA. We are located as close to you as your internet connection. Each email or text message from any timezone goes directly to the smartphone device of someone responsible to contact you with assistance. We fully utilize the internet to process, bill and deliver orders from various sources but will also provide what we believe is "personalized service via email." We maintain a presence in Tokyo, Japan and therefore we are close to the various parts and used equipment suppliers available only in Japan. We also have yards in Portland, Oregon and Tacoma, Washington. Machinery is located in several locations and we will sell to anywhere in the world shipping direct from the supplier to give you the best possible price.
Are we licensed?
We are licensed by the State of Alaska Department of Commerce. Bonded with US customs for importing.
How long have we been in business?
We have been in general business in Alaska since 1985, construction equipment sales exclusively since 1998.
Do we own our equipment?
All our for sale equipment is completely owned by us. Our suppliers demand cash for all our purchases, so there are no liens or encumbrances. We purchase most of our equipment direct from the manufacturer of the equipment through a special arrangement. This assures the highest quality used equipment. We do not get our equipment from lower 48  auctions. You are provided a clean Bill of Sale from us after purchase. 
Do we rent equipment?
Yes, we have certain Morooka crawler carriers and excavators for rent.
Can we finance equipment?
We do not offer in house financing. Our prices are low for this reason. We can refer you to banks or finance companies that we work with. Many people use home equity type loans or credit card loans. 
Do we carry parts?
Wear parts such as undercarriage, track shoes, carrier rollers, sprockets, blade edges, bucket teeth and most maintenance parts are carried by us for your convenience. We can obtain custom buckets, thumbs, quick connects and various attachments for the machines we sell at very competitive prices.  We have manuals for most machines. If someone or the dealer tells you they cannot get a part let us help.
Do we provide service?
Our outside service is provided by a contract service arrangement with a professional mechanic. Our thumbs are professionally installed out of state. 
Do we provide a warranty?
This is used equipment and we will not sell a piece of equipment with a known defect. Our business is based on referrals and we enjoy repeat customers. We try to select low hour and late model equipment with expected good longevity.  However, we cannot estimate the lifespan of the equipment we sell and cannot offer a warrantee at these low prices.
Message & fax:
1-907-696-7375
Mail to:
13232 McKinley Way #425
Willow, AK 99688 USA